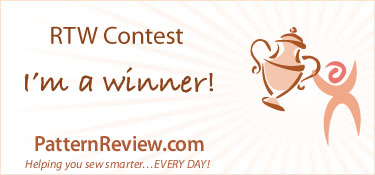 So there you have it, I won the patternreview.com contest for my Levi's 514 knockoff jeans. You can read more about it by clicking the logo.
I've got quite a few items on my plate coming up in the next few weeks. I've been working on making some semi-professional instructional movies which has been sucking up almost all my time. Working with everything from lighting to movie editing software there is so many new tools and techniques to learn. The first movie is more practice then anything else since I made a lot of mistakes. I need to get some titles and transitions in it tomorrow and I should have it posted and playable by Monday.
Something else I'd like to do is a homegrown weekly sewing show. Less formal then an instructional video, I'd like to create a time where I can talk about my week in sewing. New notions I've discovered, sewing projects, some quick techniques, etc. I'm sure the format will morph on it's own once I get started.
I finally got my Organ 125/20 sharp needle in the mail. Wow, they are huge and quite sharp. Interestingly I noticed that the eye is smaller then the Schmetz universal 120/19 Nancy shared with me. I can't tell if the groove is the same size or if one is bigger. Speaking of looking at needles.... For the life of me I cannot see the sizes printed on sewing needles. It might as well be invisible! It's time for me to invest in a magnifying glass because I have a pile of half used needles that could be used up if I knew what they were.
Well I am very happy to win the contest. It is quite an honor to be recognized by the same people whom I was in awe of only a year ago. I have received some very generous public praise and even some private kudos in my message box. Thanks!