Hi Brian,
It's been some time since I wrote you asking about sewing machines.
I see you mentioned you have changed about your likes towards vintage sewing machines.
Well, I can understand how the computerized machines improve and smooth our way to new designs
however I'm still stuck with budget and don't need fancy sewing.
My question:
I am looking into a Pfaff, Bernina, Viking.
Which models you suggest are good machines. I'd like a machine that can also sew thick fabrics (even leather)
I like mechanical machines. and I'm looking for deals at eBay and Craigs list for no more than $100.00
I am confused (or can't decide) with the number models of Pfaff specially.
Thank you and glad to see your business is growing.
Hope to see your show on PBS very soon.
Hey Daniela,
Funny how times change! Now I'm back on mechanical machines!
My big problem with the computerized machines is that functions that should be at the touch of a button are often multiple touches to get what you need. I have found the machine that does this and of course it's a Bernina 1130 which I feel guilty using since electronics especially old ones don't last forever. (Do I turn the power off every time I step away, or is it better to leave it on?)
My current favorite machine is actually a Kenmore from the 80s.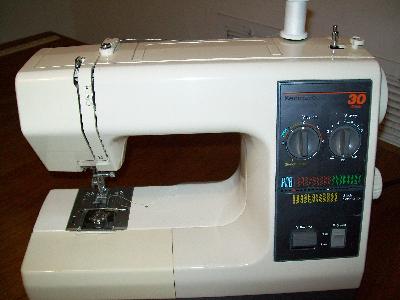 They came in 24 and 30 stitch models, all mechanical and smooth as silk. Every one I've touched sews at full speed with zero vibration. Add to that all the functions are at the flick of the wrist and it's a winner. I've payed as much as $60 for these gems but also much less. Yes they'll sew whatever you can fit under the foot but unfortunately the foot doesn't lift as high as I'd like. This becomes an issue when sewing multiple layers of fleece or other bulky stuff.
As far as your choices go for under $100 they're pretty good.
The older Bernina will do you well and they're very sweet inside. Be sure to watch for the knee control that powers the motor and not lifts the foot. I would prefer control with a pedal. These machines will have an oscillating hook and could be seen to have more thread jams depending on how you sew.
The vintage vikings are great machines, full rotary hook and heavy duty but simple. I also found that the bobbin area of these older vikings are loud but that's subjective. I don't feel like it's possible to break this machine, it's just solid and simple.
A Pfaff will give you a lot of bang for your buck and you're looking at either the 260 flatbed or 360 freearm. The 360 was very popular a few years back and could fetch upwards of $300 easily, now it's back down to
under $100. The 260 can be had for less than $50. The mechanics of both machines are very similar and both do a lot, a lot of stuff you won't probably use. The Pfaff has a very sure footed way of sewing, feels like you're driving a caterpillar tractor.
My gripe with these machines is the markings on the dials. I eventually learned how to fumble my way around but if you don't have the stitch wheel chart you're just using trial and error.
They fixed this with the next gen Pfaffs.
I recently got a Pfaff 1222 that I've been... disappointed in. The hype of a mechanical walking foot machine was mostly hype. The extra electronic features are bothersome and the foot doesn't lift up far enough. BUT! All the functions are at the turn of one dial and the magnetic bobbin winder is cool. It's a good machine just perhaps not as fully functioned as I would need. Plus I'm scared to break it, like the Bernina 1130.
I should mention that the vintage Pfaff machines are much more difficult to work on and you may very well have to send your machine away for service. Just check ebay and you'll find quite a few that are in great shape but sew backwards or something else wonky. I got a deal on one and sent it directly to Ken over at
www.kennsplace.com
. I figured with everything included it would cost about the same as one in working order just a but more work. Ken by the way does a bang up job with these machines. Generally they've been diddled with by a number of mechanics before he gets them. Mechanics like Ken are becoming hard to find. Something to note, sending a machine away takes time, maybe even months to get it back. It's only an option if you like waiting or have other machines to use.

I suppose the point is that there is no perfect machine for every sewing job or every sewist. Get whatever you can get your hands on and just start sewing. If you're really looking to save money get a Kenmore from the 70s or 60s. Nice high lift on the foot, bullet proof mechanics, good features, easy to repair, and cheap.

Also remember if you pay the right price to begin with you can easily sell it for what you paid or more. Essentially you get to use the machine for free, just pay the deposit!

Hope that helps!

Brian